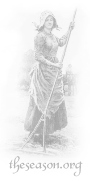 The Power of Prayer

How does one properly pray to God? There are examples in God's Word which give us specific examples which teach us how to pray effectively, and with reverence to our Lord.

We begin in John 15:16

"Ye have not chosen me, but I have chosen you, and ordained you, that ye should go and bring forth fruit, and that your fruit should remain: that whatsoever ye shall ask of the Father in my name, he may give it you." John 15:16

and

"And whatsoever ye do in word or deed, do all in the name of the Lord Jesus, giving thanks to God and the Father by him." Col 3:17

We pray to the Father, asking in the name of the Son.

In what manner are we to pray?

"And when thou prayest, thou shalt not be as the hypocrites are: for they love to pray standing in the synagogues and in the corners of the streets, that they may be seen of men. Verily I say unto you, They have their reward." Matt 6:5

and

"But thou, when thou prayest, enter into thy closet, and when thou hast shut thy door, pray to thy Father which is in secret; and thy Father which seeth in secret shall reward thee openly". Matt 6:6

How simple! The Lord tells us, to "pray to thy Father which is in secret", and to "not be as the hypocrites are" who pray before men.

Is there any reason God would not hear our prayers?

"If I regard iniquity in my heart, the Lord will not hear me:" Ps 66:18

and

"He that turneth away his ear from hearing the law, even his prayer shall be abomination." Prov 28:9

and

"But your iniquities have separated between you and your God, and your sins have hid his face from you, that he will not hear." Isa 59:2

and

"Ye ask, and receive not, because ye ask amiss, that ye may consume it upon your lusts." James 4:3

So we learn that unconfessed sin can cause God not to hear our prayers. Repentance is necessary if we want our prayers to be answered.

It is also important to have a forgiving heart when we pray.

"And when ye stand praying, forgive, if ye have ought against any: that your Father also which is in heaven may forgive you your trespasses." Mark 11:25

How often should we pray? As often as we need it:

"For this cause we also, since the day we heard it, do not cease to pray for you, and to desire that ye might be filled with the knowledge of his will in all wisdom and spiritual understanding..." Col 1:9

and

"Seven times a day do I praise thee because of thy righteous judgments." Ps 119:164

Can we ask for spiritual gifts? Yes! This is such a wonderful blessing!

"If ye then, being evil, know how to give good gifts unto your children: how much more shall your heavenly Father give the Holy Spirit to them that ask him? Matt 7:11

How else does the power of prayer benefit us? It strengthens the inner man, it brings with it the Holy Spirit.

"That he would grant you, according to the riches of his glory, to be strengthened with might by his Spirit in the inner man..." Eph 3:16

and

"When my soul fainted within me I remembered the LORD: and my prayer came in unto thee, into thine holy temple." Jonah 2:7

and

"And when they had prayed, the place was shaken where they were assembled together; and they were all filled with the Holy Ghost, and they spake the word of God with boldness." Acts 4:31

What about praise? Is that part of prayer? Yes!

"Be careful for nothing; but in every thing by prayer and supplication with thanksgiving let your requests be made known unto God." Phil 4:6-7

and

"Praise him for his mighty acts: praise him according to his excellent greatness." Ps 150:2

and

"In every thing give thanks: for this is the will of God in Christ Jesus concerning you." 1Thes 5:18

What is intercessory prayer? Who interceeds for who?
Intercession means to "entreat", "confer with", "deal with" (from Strongs #'s 1783 & 1793 is "enteuxis")

And we can interceed for our brethren/sisters:

"I exhort therefore, that, first of all, supplications, prayers, intercessions, and giving of thanks, be made for all men..." 1 Tim 2:1

But the greatest intercessor of all, is Christ himself:

Christ interceeded for Peter as it is written in Luke Chapter 22: (and the disciples in John 17)

" But I have prayed for thee, that thy faith fail not: and when thou art converted, strengthen thy brethren. And he said unto him, Lord, I am ready to go with thee, both into prison, and to death." Luke 22:32-33

Christ also interceeds for all. He gave the most selfless intercession of all when He petitioned God on behalf of those who crucified Him:

" Then said Jesus, Father, forgive them; for they know not what they do. And they parted his raiment, and cast lots." Luke 23:34

A Christian, because of their unique relationship to God, through Christ, can intercede for all people through Him:

" I exhort therefore, that, first of all, supplications, prayers, intercessions, and giving of thanks, be made for all men..." 1 Tim 2:1

and

"Likewise the Spirit also helpeth our infirmities: for we know not what we should pray for as we ought: but the Spirit itself maketh intercession for us with groanings which cannot be uttered. 27 And he that searcheth the hearts knoweth what is the mind of the Spirit, because he maketh intercession for the saints according to the will of God." Rom 8:26-27

I hope this study helped you understand the power of prayer in a Christian's life through the simple words of God's letter to us.


All Scripture for this study was taken from the King James Bible. Word studies were done with the Strong's Concordance. The author is "Shamrock", and the study can be shared freely, (excluding placing this on the web anywhere) only if used in it's entirety, and provided the original author's name is intact, (i.e. , no new author's name is added, and the study remains unaltered). Questions? Email Shamrock, at Shamrock@theseason.org.