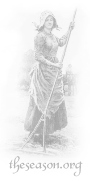 ___________________________________| theseason.org |_________________________





The Throne Of David

To save this chart, right click with your mouse and save to your hard drive.

You will have to wait a moment for this chart to download...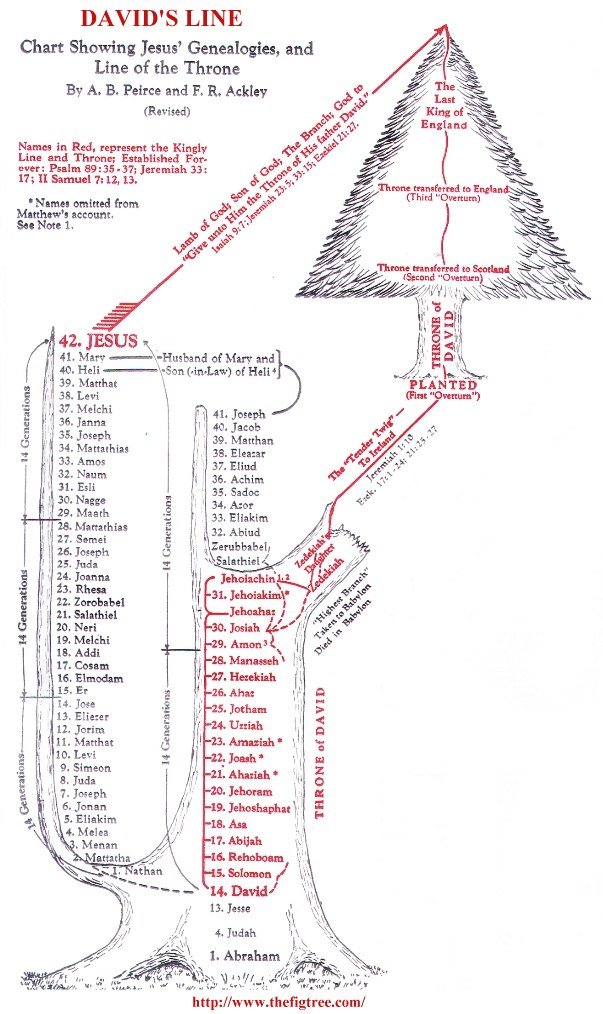 When Jesus returns to take the Throne of David, which has been 'held in trust' by England, it ceases to be the Throne of England and becomes the Throne of United Israel (ref: Ezek 37:22)


'And I will make them one nation in the land upon the mountains of Israel; and one king shall be king to them all: and they shall be no more two nations, neither shall they be divided into two kingdoms any more at all:' Ezek 37:22

Jesus alone will then be King, and no one part of Israel will dominate. This is the only way the Anglo-Saxon nations will be united in one nation, despite the efforts of men to bring it about by their own methods before the appointed time.

There has been some controversy as to whether Matthew's account , or Luke's give the genealogy of Mary, the mother of Jesus. Remember that Mary spoke of herself as 'low estate' (ref: Luke 1:48)


'For he hath regarded the low estate of his handmaiden: for, behold, from henceforth all generations shall call me blessed'. Luke 1:48

and Isaiah likened Christ to a 'root out of a dry ground''. (Isaiah 53:2)


'For he shall grow up before him as a tender plant, and as a root out of a dry ground: he hath no form nor comeliness; and when we shall see him, there is no beauty that we should desire him'. Isaiah 53:2

Beyond this, the most conclusive answer seems to be in the following scripture passages:

Isa 11:1
'And there shall come forth a rod out of the stem of Jesse, and a Branch shall grow out of his roots': Isaiah 11:1


Jer 23:5
'Behold, the days come, saith the LORD, that I will raise unto David a righteous Branch, and a King shall reign and prosper, and shall execute judgment and justice in the earth'. Jeremiah 23:5


'In those days, and at that time, will I cause the Branch of righteousness to grow up unto David; and he shall execute judgment and righteousness in the land'. Jeremiah 33:15


'Hear now, O Joshua the high priest, thou, and thy fellows that sit before thee: for they are men wondered at: for, behold, I will bring forth my servant the BRANCH'. Zechariah 3:8


'And speak unto him, saying, Thus speaketh the LORD of hosts, saying, Behold the man whose name is The BRANCH; and he shall grow up out of his place, and he shall build the temple of the LORD': Zech 6:12

and also passages in the new testament referring to the Branch or Rod.


'And she brought forth a man child, who was to rule all nations with a rod of iron: and her child was caught up unto God, and to his throne'.Rev 12:5


The definitions of the words used here, as obtained from the original Hebrew, make these passages particularly specific. Branch as used in Isaiah 11:1 carries with it the sense of greeness, and means 'a shoot'. 'Rod' in the same verse is a word of uncertain origin and is translated sometimes 'twig'. Stem is the Hebrew comes from an unused root meaning to cut down (trees); and means the 'trunk' or 'stump' of a tree (as felled or planted): 'stem' 'stock'.


The word translated 'root' in the same verse means 'bottom', 'deep', 'heel', 'root'. The word translated branch in Jeremiah and Zechariah mean 'a sprout' that which grew upon'. These words summarized, then refer us to a shoot or sprout (words not usually applied to the small branches in the upper part of the of a tree), growing out of the very stump, root, bottom, or deep part of the tree. This can only describe the line of Nathan as given by Luke. [The definitions above are from Strong's Exaustive Concordance of the Bible, 1930 ed).

1. We come now to the counting of the generations from Abraham to Christ, according to Matthew. He gives three groups of 14 generations each, but we find that his actual list is one generation short. Note, however, a very important change in his style in verse 17. Instead of refering all of his division points to individuals, he changes in one case alone and uses 'the carrying away into Babylon'. There is no necessisity to assume an error here, as some do. Referring to the Old Testament, we find that there was four kings which he omitted. Including these, we have three too many. Now for the explanation:

Matthew apparently omitted these names to call our attention to the fact that his geneology was to be checked up and examined; and included the names of Jeconias and his son and grandson to emphasize that this is the line bearing the curse. Now if we consider this, remembering that Jeconias was to be 'written childless' (Jer 22:30)



'Thus saith the LORD, Write ye this man childless, a man that shall not prosper in his days: for no man of his seed shall prosper, sitting upon the throne of David, and ruling any more in Judah'. Jer 22:30



and that the sins of the fathers were to be visited on the children unto the third and fourth generation (Deut 5:9),



'Thou shalt not bow down thyself unto them, nor serve them: for I the LORD thy God am a jealous God, visiting the iniquity of the fathers upon the children unto the third and fourth generation of them that hate me',Deut 5:9



Then we have the answer. If we do not count the generations of Jeconias, Salathiel and Zerubbabel, then there are just 14 generations from Abraham to David, 14 generations from David to the carrying away to Babylon (which began during the reigns of Manasseh and Amon), and 14 generations from that point to Christ. There are two additional points of importance here. Remembering how frequently Jesus Christ calls himself 'son of man', it should be noted that where Ezekiel, as a type of Christ, is so addressed, it is literally 'Son of Adam'. It is significant, therefore that Luke, and Luke alone, carries his geneology back not only to Adam, but to God - 'the son of God'. It is also significant that, taken this way, there are three groups of 14 generations from Nathan to Christ besides those in Matthew's list. This would seem to offer us a check. The Bible demands that we search for the truth:



'It is the glory of God to conceal a thing: but the honour of kings is to search out a matter'. Proverbs 25:2

2. Three names of Jehoiachin: Jehoiachin, Jeconias and Coniah.


3. There was a veritable whirlpool of Kings in Judah immediately preceding the final captivity into Babylon. Therefore, where there is a possibility of confusion, the line of succession to the throne is indicated by a solid red line, while the line of descent in indicated by a dotted line.


4. The word 'son' does not appear here in the original Greek, but is only implied. Where does it occur earlier in the verse, it is a word including, among other meanings 'one who fills the place of a son'. (John 19:26).



'When Jesus therefore saw his mother, and the disciple standing by, whom he loved, he saith unto his mother, Woman, behold thy son!' John 19:26



It is 'used very widely of immediate remote or figurative kinship'. (Strong's Concordance). In view of all the evidence above, as well as the custom note only among the Hebrews, but among many others as well, of frequently using the term 'son' in referring to a son-in-law (1 Samuel 3:6, 4:16, 21:25, 26:17), or grandson (Genesis 28:5, 29:5 2 Samuel 9:6, 19:24), we feel fully justified in understanding this meaning to be intended here.

Ref: Greek and English Lexicon of the New Testament, by Edward Robinson, DD, LLD, New York:1850
Published by 'New Beginnings, Inc.'

I hope tracing the throne of David helps you understand the lineage of the King Line.



All Scripture for this study was taken from the King James Bible. Word studies were done with the Strong's Concordance. The author is "Shamrock", and the study can be shared freely, (excluding placing this on the web anywhere) only if used in it's entirety, and provided the original author's name is intact, (i.e. , no new author's name is added, and the study remains unaltered). Questions? Email Shamrock, at Shamrock@theseason.org.